Department of Geography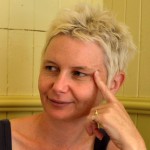 McGill University,
805 Sherbrooke Street West,
Montreal, QC H3A 0B9
Canada
Telephone: (514) 398-4955
Email
 Research Focus
My research agenda, broadly focusing on everyday livelihoods in Asia, argues that if we study how people make a living in a specific cultural and social environment – say, Muslim, Bugis small-scale traders in eastern Indonesia, or highland Hmong ethnic minority semi-subsistence farmers in Northern Vietnam – we find that people's decisions are not always what outsiders, be they local government officials, aid agencies, or academics, think they would or should be. Yet these choices are often entirely rational to local people because of their own understandings of what success and development are, and their precise knowledge of the local context. If outsiders in their capacities as government policy makers, directors of aid programmes, or academics informing the former do not understand and come to acknowledge this, there are serious implications for the very people we aim to understand, discuss, and support. My research therefore strives to anchor development thinking and practice in the day-to-day realities and aspirations of local people who often find it difficult to 'have a voice' given their own political, cultural or economic positions.
Development geography; Southeast Asian geographies; upland minorities in peninsula Southeast Asia and southwest China; Hanoi street vendors and informal sector workers; Eastern Indonesia entrepreneurs; livelihood studies; everyday politics and resistance; commodity chain approaches; agrarian change; innovative qualitative methods. 
Foci 1: Highland livelihood dynamics and cross-border trade in northern Vietnam and southwest China

I focus on upland livelihoods in northern Vietnam and southwest China with the aim to better comprehend the activities, interactions, and power relations that occur among highland minorities such as Hmong and Yao, Kinh (lowland Vietnamese) and Han Chinese. This work, that brings together Canada, Vietnam, and China-based collaborators, and graduate students, is currently situated in three northern highland provinces in Vietnam and two prefectures in Yunnan, China, all on the Sino-Vietnamese border. This research is creating a foundation of longitudinal research regarding upland livelihoods and cross-border trade, achieved by combining information found in French colonial archives, with that from in-depth interviews and oral histories. It provides an understanding of how upland ethnic minority residents have adapted their livelihoods and trade patterns during what were often highly antagonistic political circumstances, from imperial rule, through colonial (Vietnam) and socialist rule, and finally to post-socialist market conditions today, while also negotiating the particularities of an international border. Work on contemporary market integration focuses on the everyday politics of making a living in the uplands, specific upland commodities traded across the border, and a diversity of legal and illegal crossing approaches.
Foci 2: Non-timber forest products and ethnic minority livelihoods in the Southeast Asian Massif.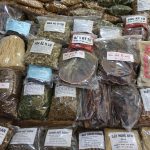 The aim of this research is to investigate the ability of ethnic minorities in northern upland Vietnam and south-east Yunnan (and possibly beyond) to achieve sustainable livelihoods while being linked into international commodity chains for high value non-timber forest products. As part of a research team of collaborators and graduate students, I examine these processes in the context of state supported modernization projects, and increasing land scarcity and climate variability.
This research examines how ethnic minority populations are responding creatively to market expansion opportunities, concerns over land access, and increasing extreme weather events, as they attempt to maintain sustainable livelihoods. We draw on in-depth ethnographic fieldwork, while incorporating insights from political ecology, sustainable livelihoods, commodity chain analysis, and traditional ecological knowledge.
You can read more about my research with ethnic minorities in the McGill Reporter: 'Notes from the field – Doing Geography the Hmong way'
Foci 3: Small-scale enterprises in urban Southeast Asia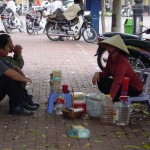 I study the socio-economic and political processes that shape the 'informal sector' (that part of the economy where activities often take place without official recognition and record) in urban Asia. This work is currently based in Hanoi, Vietnam, and Beijing, China, as well as in small towns in the Vietnam uplands, with previous studies in Malaysia and Indonesia. Along with graduate students, this research focuses on how small-scale traders in marketplaces, street-vendors, informal transportation providers, and small-scale entrepreneurs make a living while taking into consideration – at the local, national and global levels – political, social and economic forces that impact upon their livelihoods. This research takes an 'emic' actor-oriented approach, aiming to find out from the perspective of the informal workers themselves how they deal with their immediate work concerns, state decrees, and modernizing pressures.
Foci 4: Small cities, big regional impacts: Frontier urbanization in northern upland Vietnam.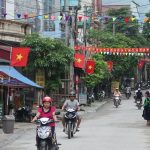 Along with collaborators and graduate students, I investigate the growth patterns and dynamics of small cities/towns and the implications on local populations' quality of life and livelihoods in upland northern Vietnam. We are currently focusing on three rapidly transforming provinces in the Sino-Vietnamese borderlands – Lào Cai, Hà Giang, and Cao Bằng. To advance understandings of such urban transformations occurring in upland Asia, this project builds on and extends literature on small cities in the Global South, upland urban migration and ethnic dynamics in Vietnam, and Vietnam's urbanization policies.